Welcome to the Sabharwal Lab!
Research
Our research is directed towards understanding neurohumoral control of circulation in health, disease, and aging.  Ongoing projects investigate the role of renin-angiotensin system, sympathetic nervous system, and hypothalamic-pituitary adrenal axis in cardiovascular and neurodegenerative diseases.  We utilize multidisciplinary and state-of-the art approaches such as radiotelemetry, echocardiography, optogenetics, electrophysiology, in vivo viral gene transfer, molecular biology, Cre-loxP, neuroanatomy etc. to assess cardiovascular and autonomic functions, diurnal rhythms, behavioral neuroscience and neural circuitry in mice.  Our ultimate goal is to identify novel therapies that can be translated to yield better clinical outcomes in dilated cardiomyopathy, heart failure, hypertension, mood disorders, Alzheimer's disease and ALS.  The Sabharwal laboratory is funded through National Institute of Health (NIH), American Heart Association (AHA)  and  internal and external collaborative research awards.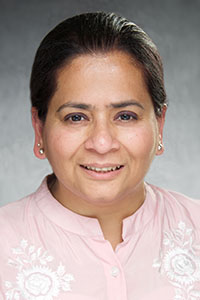 Rasna Sabharwal, MS, PhD, FAHA
     Principal Investigator
rasna-sabharwal@uiowa.edu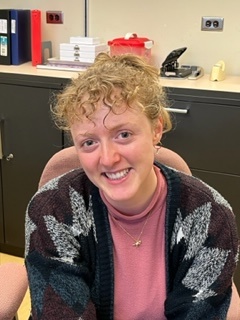 Emma Walsh
Undergraduate Research Assistant
emma-walsh-1@uiowa.edu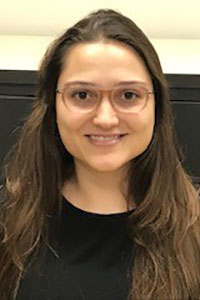 Gabriela Cerri, PhD
Postdoctoral Research Scholar
gabriela-cavazzacerri@uiowa.edu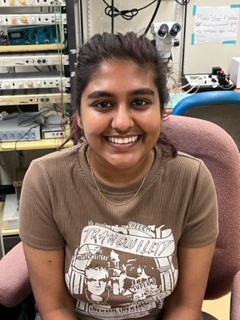 Prakruti Pancholi
Undergraduate Research Assistant               prakruti-pancholi@uiowa.edu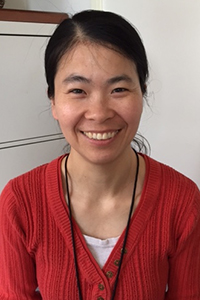 Liping Yang, BS
Research Assistant
liping-yang-1@uiowa.edu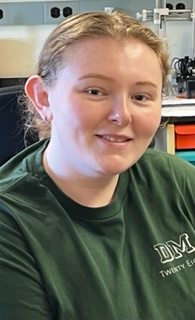 Abby Thill
Undergraduate Research Assistant
abigail-thill@uiowa.edu
Alumni
| | | |
| --- | --- | --- |
| Trainee | Year | Position |
| Marjan Aghajani, PhD | 2021-2022 | Postdoctoral Scholar |
|   |   |   |
News
We welcome Prakruti Pancholi and Abby Thill who have joined the lab as undergraduate research assistants.  Prakruti is a Medical Anthropology/ Pre-Med track student.  Abby is majoring in Human Physiology/Pre-Med track. June 2022
We welcome Emma Walsh from the Biomedical Sciences Undergraduate Research Program (BSURP) for a summer research internship. May 2022 
Congratulations to Dr. Cerri and Dr. Foroozandehasl for their first national presentation at the Experimental Biology 2022 meeting held in Philadelphia. April 2022
Dr. Sabharwal is elected to serve on the Executive Board of the American Autonomic Society. Nov 2021
We welcome Dr. Marjan Aghajani who has joined the lab as a postdoctoral research scholar.  Dr. Aghajani obtained her PhD in Medical Physiology from Tehran University in Medical Sciences in 2017. Nov 2021
We welcome Dr. Parisa Foroozandehasl who has joined the lab as a postdoctoral research scholar.  Dr. Foroozandehasl obtained her PhD in Biophysics from University Science Malaysia in 2019. Oct 2021
Dr. Sabharwal has been awarded a new NIH R21 (2021-2023) to study cardiovascular and cognitive comorbidities in Alzheimer's Disease. July 2021
We welcome Dr. Gabriela Cerri who has joined the lab as a postdoctoral research scholar.  Dr. Cerri obtained her PhD from Federal University of Minas Gerais, Brazil. June 2021
Dr. Sabharwal has been awarded a NIH R01 (2020-2024) to study mechanisms of stress-induced morbidity and mortality in dilated cardiomyopathy. April 2020
Dr. Sabharwal was awarded a FOE Iowa State Grant to study AT2R induced cardiac remodeling in mice with dilated cardiomyopathy. Nov 2019
Lab Opportunities
We welcome applications for postdoctoral research scholar or research internship positions.  Candidate must hold a M.D. or Ph.D. in Physiology, Neuroscience or related disciplines (for postdoctoral position), and have prior experience in mouse handling and small animal surgery.  To apply, please email your CV, a letter of interest with prior research experience and name/address of 3 references to Dr. Sabharwal.
Prospective rotation students, interested in basic and translational research, are welcome to reach out to Dr. Sabharwal with their CV.  Dr. Sabharwal is affiliated with the Iowa Center for Research by Undergraduates, Interdisciplinary Graduate Program in Neuroscience, Interdisciplinary Graduate Program in Molecular Medicine, and Summer Research Fellowship Programs.